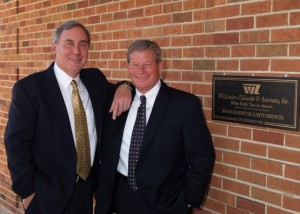 Wicklander-Zulawski & Associates, Inc. was formed on May 1, 1982 by Douglas E. Wicklander and David E. Zulawski in response to the changing legal and professional standards surrounding interviews, interrogations and polygraph exams.

Mr. Wicklander and Mr. Zulawski have each conducted over 10,000 interviews and interrogations and they shared the goal of leveraging this combined experience and expertise to develop new interview and interrogation methods that would prove to be successful in a wide range of applications.

Prior to co-founding WZ, Doug Wicklander served as the Director of Behavioral Analysis at John E. Reid and Associates.

After a career in law enforcement Dave Zulawski was also employed at John E. Reid and Associates as the Director of the Police and Fire Applicant Screening Division. Later they joined Reid Psychological Systems where Mr. Zulawski and Mr. Wicklander co-authored the Reid Survey III, an integrity exam which can be used in the pre-employment process or as part of an investigation.

In 1984 Wicklander-Zulawski & Associates, Inc. was licensed to teach the Reid Method* of Criminal Interviews and Interrogations by John E. Reid and Associates. As a result, WZ is the only organization providing training in both the non-confrontational WZ Method and the confrontational Reid Method* of interview and interrogation techniques. This unique combination allows WZ to successfully partner with clients in law enforcement, human resources, and investigators throughout the private sector.

WZ currently conducts over 360 seminars a year. Since 1982, WZ has conducted thousands of seminars and educated hundreds of thousands of professional investigators. WZ has developed customized basic and advanced seminars for law enforcement agencies, federal agencies, military units, human resource professionals and private sector investigators. The principles and techniques taught by WZ are accepted world wide. WZ opened an office in The United Kingdom in 2009 and has conducted seminars across Canada, Europe, Mexico, South America, Africa and Asia.

At WZ our commitment to our partners does not end at the completion of the seminar. Our instructors make themselves available to consult with seminar attendees on investigations, strategies, training opportunities and their career development.

Wicklander-Zulawski & Associates, Inc. is dedicated to advancing the interview profession. This is exemplified by their leading role with the Center for Interviewing Standards and Assessment and the Certified Forensic Interviewer (CFI) Designation. Our instructors regularly provide presentations for many organizations including the FBI National Academy Association, National Sheriffs Association, International Law Enforcement Education and Training Association, National Retail Federation, Retail Industry Leaders Association, the Association for Certified Fraud Examiners and the Food Marketing Institute. Our instructors also contribute ongoing columns in private and public sector publications and have been called upon as expert witnesses.

Doug Wicklander and Dave Zulawski started WZ in 1982 with a vision to become the unquestioned leader in interview and interrogation training and consulting. Thirty years later, partners Shane Sturman and Wayne Hoover are leading WZ to the realization of that vision by educating professionals, building relationships, and leading a relentless pursuit of the truth.